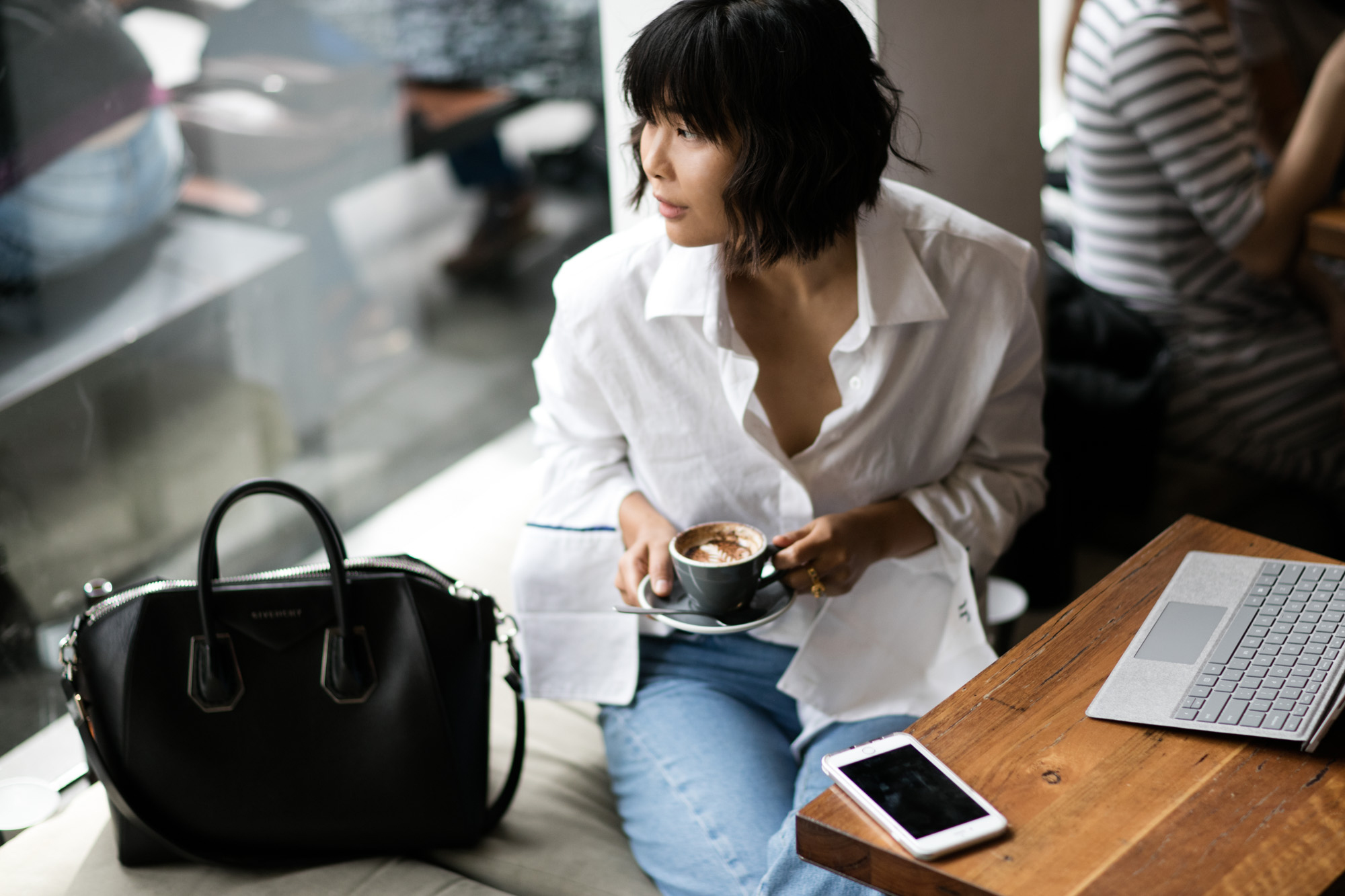 Talking business while exploring Sydney's lunch places should be the full title.
Jiawa Lu is a lawyer slash blogger slash creative multi talent really. I met her briefly last year in Sydney, but only got a chance to hang out while visiting this time. She was one of those many special Australians that made me feel extremely welcomed, and ultimately added to the reasons for me to return.
This time we explored a few lunch places, from which my favourite remains Porch and Parlour, equally delicious as photogenic, healthy foods right next to the beach and a great  place to meet the locals of Bondi Beach. We had a 'green breakfast', Quinoa with poached eggs and avocado. I of course ordered bread on the side, not a very common thing in Sydney I found.
As mentioned in the title there was lots of business talk, initiated mostly from my side. Because to me Jiawa is one of those talent phenomenons, she moved from ca 20k of instagram followers last year to almost 140k to date while maintaining a super stylish feed of self portraits, details and still lives.
I'm not someone who believes that followers are everything, it was personally never my main focus, since my business is in photography. But oh well, maybe I'm contradicting myself while writing this, I actually have mixed feelings about it. I would like to think numbers don't equal quality, but seeing those numbers grow is kind of addictive and creates a feeling of accomplishment at least for a short moment.
It is of course also essential for someone who makes a business out of professional blogging, and I recently find myself in the position as photographer to consult brands on their social media presence.
So back to my discussion with Jiawa, I was interested to learn about how she had become so quickly so successful and all that while maintaining a full time job. I was also interested to know her input on what a successful account needs content-wise and visually.
Jiawa is a self-proclaimed minimalist, and she displays this consequently on her accounts. Beautiful images, that work well together, there is a recurring look that is clean and in harmony. Skillful portraits or self-portraits of her outfits, travel pictures and still life arrangements that from my point of view are professional photography and prop styling. As on the photos here, everyday basics with great details, lots of Anna Quan and denim. And the cutest hair style to go along. What looks easy, is actually a full-time dedication after the full-time day job, and a constant learning and skill improving. Jiawa mastered how to take the coolest self-portraits, watch me trying that out soon !
This blog/social media model has been very successful for Jiawa and I recommend you to look at her images. I am still wondering though, what is it that makes a great instagram account these days and I am curious to hear your input (if you even followed this text for so long …).
From what I discussed with Jiawa it seems the most successful accounts fall into the categories of either celebrity or very strong visual identity with a recurring style. I often see the most minimal accounts to be extremely successful with an abundance of black and white, desaturated interior and coffee shots. Accounts often resemble portfolios rather than snapshots.
This is where I am confused. Has instagram become equal to a portfolio ? I still really enjoy the more personal accounts, I don't watch them in my feed but I go directly to an account to see where a person is traveling to, or what their inspiration is, and I like the less perfect images sometimes even better.
At the end, everyone has to decide for themselves. I am sticking to an approach of showing some of my work as well as snapshots for now, so far I couldn't find myself being disciplined enough into creating a very clean account, I simply get bored and enjoy showing some personal and less perfect pictures. Or am I making excuses.
What is your point on all this ? This is an endless topic of discussion but so interesting because so many of us are hooked to their feeds while having their morning coffee.